Rev. Sean R. Motley, Senior Pastor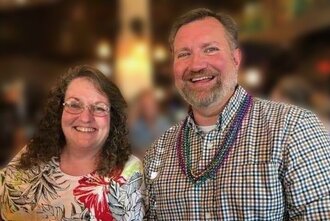 I went to bed one night a student in law school and woke up the next morning telling my wife I needed to go to seminary. I would never have thought when I was a child that I would be a Lutheran pastor, veterinarian maybe, professional chocolate taster possibly, but not a pastor. Yet, God calls to us, every one of us, and even surprises us along the way. As a husband to my wonderful wife Colleen for over thirty years, as a father for twenty-seven years and counting, and as a pastor for twenty-eight years, I have not understood every turn in the road, I have faced challenges I did not expect, joys and sorrow and I have never faced any of life alone. God called me through His Son, claimed me as His own and has never let go. I want every person to know that God is calling them to be His children, that He is with them and always will be, and that Jesus is our life now and forever.
Renata Conger, Parish Education & Youth Ministry Coordinator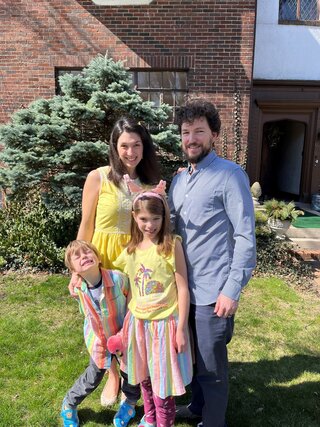 When I'm not at church, I can be found cooking up a storm in the kitchen or dancing in the living room with my husband, Dave, and our two children. Though I love to travel the globe—including trips to Japan and Australia—I am a Michigan girl through-and-through. I enjoy baking, swimming in lakes, talking to strangers, going out of my way to pet random dogs, and identifying tree species. I'm a proud graduate of St Thomas in Eastpointe, where I spent ten years training to be a professional Lutheran. I am privileged and humbled to serve Christ in ministry to the families of First English. (Renata@feelc.org)
Robert Foster, Music Coordinator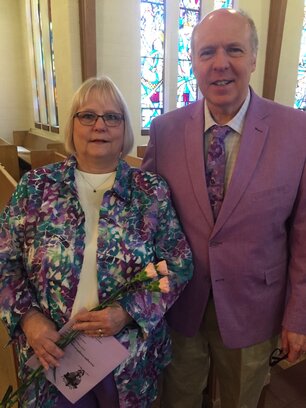 I joined First English as an organist in 1983, after completing two degrees in Organ Performance at the University of Michigan. I became choir director a year later. I now serve as Coordinator of Music at First English, where I direct our choirs and bell choirs, as well as lead our praise band. I'm also very active in musical theater, and in addition to serving as the musical director for countless productions at First English, I have served as pianist for many Grosse Pointe Theatre productions. I am also serving as accompanist for the Grosse Pointe North High School and as accompanist for the Motor City Chorale. I live with my wife, Patty, and son, Danny, along with our two basset hounds and three cats, in Grosse Pointe Park. My daughter, Jessica, lives in Chicago with her husband, Nolan. (Bob@feelc.org)
Kelley Bidigare, Communications Coordinator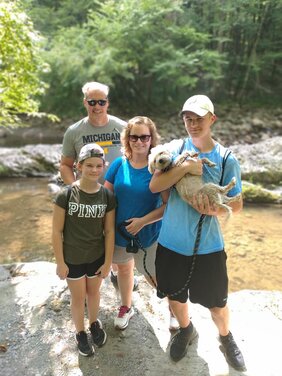 My most important job is being a wife to my husband, Ted, and a mom to my kids, Jack and Meghan. We welcomed a rescue dog, Winston, into our family in June 2021 (he's cute with attitude!). My family and I joined First English Lutheran Church in 2016 and it was absolutely the best choice we could have made regarding our faith. Outside of the church, I love listening to music and always seem to have it playing. Music never fails to improve my mood and I can't stop myself from dancing and singing along (even though I cannot sing!). One of my favorite sports is soccer and watching Meghan play with her travel team makes me incredibly proud. Being with my Mom and sisters is important to me, and we try to do it whenever our schedules allow. I also really love board games and playing with friends for a little fun competition! (Communications@feelc.org)
Lierin Muehlbrandt, Office Manager & Building Coordinator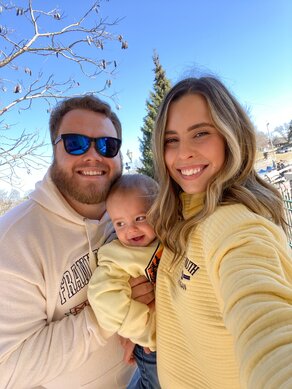 Hi! My name is Lierin (pronounced Lee-Aaron). I graduated from Oakland University in 2019 with a BA in English and enjoyed taking a variety of art classes for fun along the way. My one-year-old son is my favorite model for my photography hobby! My husband and I love to take him on little local adventures with us, spending our time enjoying Michigan lakes and hiking in the summer, and staying cozy exploring new coffee shops together in the winter, with our dog Max sometimes along for the ride. I'm so thankful to be a part of the team and excited for a new adventure here at First English as Office Administrator! (Lierin@feelc.org)
Amanda Onoro, Preschool Director & Teacher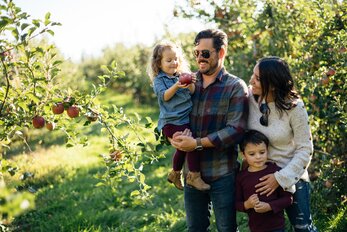 My family and I recently moved to Grosse Pointe Woods. I have two children, ages 6 & 3 years old. I graduated from the University of Michigan and have been an early childhood educator for 17 years - it's truly is my passion; I couldn't imagine doing anything else! I'm looking forward to continuing all the adventures we are having in the First English Preschool program! (preschool@feelc.org)
Elizabeth Roberts, Preschool Teacher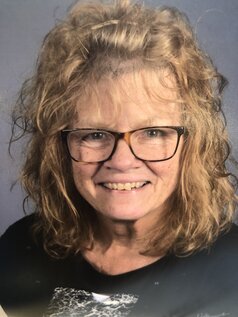 Hi! I'm Elizabeth Roberts, so excited to meet everyone. I am new to FELP but have been a teacher for 20 years. I live in St. Clair Shores with my husband. We have two grown kids and two granddaughters who spend a lot of time with us. I am loving that Nana & Papa time!